If you are looking for a strategic partner to fulfill your product development and manufacturing goals, think NutriCrafters.  A well designed formula composed of high quality ingredients, put together by people who care, will keep you and your buyers happy.  If quality is more of a soundbite than a way of life, and a low price is your main goal, this is easy to find elsewhere.  Quite simply . . . you get what you pay for—you and your customers deserve better.
Here is a sample of some of our vendor partners we work with:
NutriCrafters is proud to formulate with Euromed Medicinal Plant Extracts. While creating botanical extracts for 46 years, Euromed has been consistently compliant with European regulations.  In addition, Euromed holds NSF, GMP, and ISO 9001 certification.

Identity, Purity, and Potency – Guaranteed!
Euromed starts with botanicals that are verified, grown and harvested properly to preserve plant integrity and bioactive profiles, with authenticity assured.
Process control and numerous safety tests confirm that Euromed's ingredients are unadulterated and do not contain undesirable contaminants.
Laboratory tests from the American and European pharmacopeia monographs are rigorously conducted to ensure composition, efficacy, and consisted potency.
Thermo Fisher Scientific
NutriCrafters uses the Thermo Scientific™ Nicolet iS5 FTIR Spectrometer for product assurance testing and material identification.
Combined with the industry-leading Thermo Scientific™ OMNIC™ software, the Nicolet iS5 FTIR Spectrometer is used to confirm material identity and assure each formula meets expected specifications.
FTIP (Fourier-transform infrared spectroscopy) is a technique used to obtain an infrared spectrum of absorption or emission of a solid, liquid, or gas. The FTIR spectrometer simultaneously collects high-spectral-resolution data over a wide spectral range. This confers a significant advantage over a dispersive spectrometer, which measures intensity over a narrow range of wavelengths at a time. This data is processed and stored within the Omnic Software to perform various quality control procedures.
Sabinsa Corporation
Sabinsa Corporation is a manufacturer, supplier, and marketer of herbal extracts, cosmeceuticals, minerals, dietary supplements, and specialty fine chemicals for the nutritional, cosmetic, pharmaceutical, and food industries.
Founded in 1988 by Muhammed Majeed, Ph.D., Sabinsa is a company dedicated to the principles of tradition, innovation and research.
Sabinsa has carved a niche for itself by its extensive research support for its customers and products. With more than 100 full time scientists conducting ongoing research in India and the United States, Sabinsa continues to develop and patent unique phytonutrients for world markets.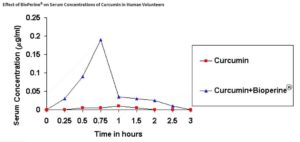 One such innovation is BioPerine®, a black pepper extract which increases the absorption of many ingredients, especially those with low bioavailability.  For instance, the absorption of Curcumin is low and Bioperine increases bioavailability substantially.